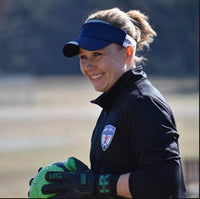 Amanda Forester
Founder and Head GK Coach
Richmond Goalkeeping Academy
(Virginia)

Originally from Virginia Beach, Va, Coach Amanda has been in the soccer world for 25 plus years. More than 10 years playing experience and 14 years of coaching. Her playing experience ranges from the Inaugural United Soccer League's 2003 Super Y League with the Hampton Roads Piranhas where she helped lead her team to the National Finals to Southeastern District ODP and VA State ODP Teams. Her coaching style and foundation first began with the Virginia Rush Travel Soccer Club programs, Kellam High School Varsity team, and continued through her collegiate soccer career at Ferrum College (NCAA DIII, ODAC).
In Fall 2004, Coach Amanda became the youngest Director of Goalkeeping at the age of 17 for the Old Dominion Select Travel Soccer Club. She later worked with various PDP programs and travel teams with the Roanoke Stars Travel Soccer, Richmond Kickers, FC Richmond, and offered private coaching throughout the state of Virginia.
Over the last 20 years she has expanded from Virginia Beach, Chesapeake, Central Virginia and Northern Virginia helping goalkeepers and field players excel and move on to the D1, D2, D3 collegiate levels, High School Varsity, ECNL, Elite Travel teams, Eastern Regional ODP, VA State ODP and Southeastern, Southwestern and Central District ODP teams, and Semi-professional.
Her biggest focus and coaching style are developing complete goalkeepers. Mentally, physically, as leaders on and off the field, and game ready. Coach Amanda's mentors and former coaches include Jay Hoffman (former Boston Breakers Head Coach and US Women's National Team Coach), Steve O'neil (former Director of Goalkeeping for USL W-League Hampton Roads Piranhas and Va Rush Soccer Club, and Jon Busch (recently retired 21-year MLS Goalkeeper and US Men's National Team member).
Coach Amanda resides in Fredericksburg and Richmond, Va. She is passionate about leadership, mentorship, and developing the next generation of leaders in our sport and community. Her background is in business development, public speaking and coaching. She has been invited to come speak on mentorship, coaching and leadership in various settings with both the youth and adults.