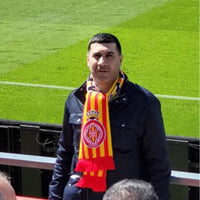 Michael Rodriguez
President of MCR Soccer Tours
(Georgia)

Michael has extensive experience coaching at the youth, collegiate, and professional levels. His background consists of coaching U16 and U18 age groups of the USSF Development Academy and led them to the playoffs each year. Over 20 of the players he has coached have or are currently playing professionally in the MLS, USL PRO, NASL, and other European Leagues.
He was an assistant coach at both Columbia University and Adelphi University. After college coaching, he challenged his skills in professional coaching with CD Alcala in Sevilla, Spain as a member of the Spanish Tercera Division. Rodriguez is currently the Director of Coaching at MOBA Soccer Academy in Peachtree City, GA where he is building a Youth Elite Program.
It consists of a quality over quantity mentality consisting of 2 teams per age group in the top leagues. They encourage their players to succeed as athletes, students, leaders and to become role models in their communities. While at MOBA he has won 2 consecutive championships with his 02 Boys team and has placed players in MLS's Atlanta United Youth Academy. Michael strongly believes that youth development is rooted in top quality coaching, training, and competition.