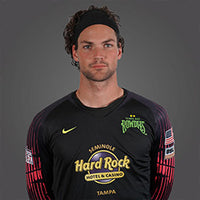 Ian McGrane
Birthdate: 11/22/1995
Hometown: Kingston, Pennsylvania
Height: 6'5"
Weight: 212

Ian McGrane signed with the Tampa Bay Rowdies on January 31, 2020.
A Pennsylvania native, McGrane finished his collegiate career in the SEC with the University of South Carolina while playing on amateur sides FC Miami City and SC United Bantams. After graduating from South Carolina, McGrane played the 2019 season with AFC Ann Arbor in the NPSL.
Following the conclusion of the NPSL season, the 6-foot-5 goalkeeper signed with Stumptown Athletic in the NISA for fall of last year.